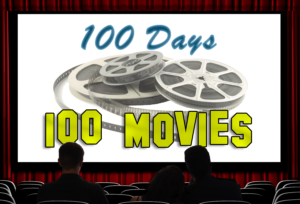 So, last year, for the final 100 days of 2015, I took on an ambitious project. I decided I was going to do a vlog a day.
That… was a bad idea. I did it, but, man, was it a ridiculous amount of work.
This year, I'm going to try something a little less labor intensive: 100 Movies in 100 Days.
It occurred to me a while ago that this site was gathering a whole lot of dust on the front end. It's been more than a couple of years since the last published update. It's not that I haven't been going to movies and watching TV and stuff… it's just all been being handled in a couple of lines in a Facebook status update.
That… is kind of lame. Especially for someone who once really planned on doing this whole entertainment commentary thing professionally.
Here's how it's going to work:
Every day during the last 100 days of 2016, there will be (at least) one movie review posted here.
Yep. That's it. Nothing fancy.
It won't even necessarily be new movies that I've just seen. I have a ton of half-written reviews in my "Drafts" folder here. I have a ton of films that I've been meaning to review. And I have about three tons of films I still haven't watched that I want to, so I can talk about them.
So, I won't be doing something crazy like watching a movie a day or anything like that. Just cranking out (or polishing up and finishing off) a review of (at least) one movie a day.
I am, of course, open to suggestions if there's something in particular you'd like to see me talk about.
This all kicks off on Friday, 23 September, 2016.