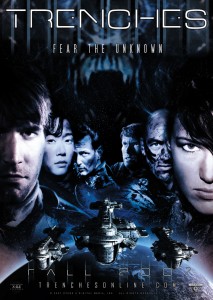 A few years ago, my friend Kelley was involved in the production of a sci-fi series called Trenches that really piqued my interest. It was an online series with some pretty hefty backing (Disney/ABC) about a bunch of space marines shooting it out on an alien planet when things go from bad to worse.
Unfortunately, the arm of Disney/ABC that was going to release it got chopped off and boxed away during some restructuring.
For the past year or so, there's been some doubt about whether we'd ever get to see Trenches.
That day is now just a few weeks away.
For a web series, it carries a pretty hefty budget. a reported $250,000. But that price tag shows in the trailer. From what can be seen in that and the behind the scenes bits posted on the show's main website, this looks at least as good as SyFy Channel Original Movie. It definitely looks to have better effects and acting than most of those.
On February 16, the first episode will go live on Sony's Crackle.com.
According to the LA Times:
Business affairs executives at Sony Pictures Television, which runs Crackle, became aware that Disney was looking to sell distribution rights to "Trenches," and the company decided it could find a slot for it on Crackle, which mixes original series with television shows and movies from Sony's library.

After debuting on Crackle.com, "Trenches" will later be shown on the sites of Sony distribution partners, including YouTube and MySpace.
I know I'm looking forward to finally seeing it. Even better, according to the Times article, after it makes the rounds online, it stands a chance of being expanded into a property that may see DVD and cable release, too.
This is just the first of a handful of projects friends of mine have been working on over the last year or two that will see public release this year. Keep an eye here for more details on everything from Browncoats: Redemption to Ghosts Don't Exist.